Carol Kaye on bass, Brian and the Beach Boys
Also Phil Spector, Sonny Bono, Barbra Streisand
and the life of a session player
(Among bass players, her name is legend. Carol Kaye has had a long and storied career as a bass player with some very famous people. She played on a number of Beach Boys songs: "Wouldn't It Be Nice," "Help Me Rhonda," "Good Vibrations," "Caroline No," "Sloop John B.," "Heroes and Villains,"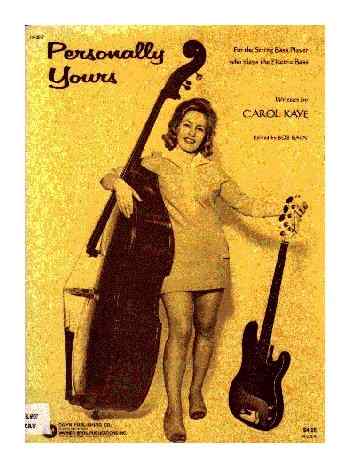 "California Girls," "Surfin' USA" (guitar only on this track) as well as most of the "Pet Sounds" LP and on the now legendary "Smile" sessions.
She's also done sessions for Barbra Streisand, Frank and Nancy Sinatra, Simon and Garfunkel, Ike and Tina Turner, Ray Charles, Herb Alpert and the Tijuana Brass, Andy Williams, the Monkees, Barbra Streisand, Bobb B. Soxx and the Blue Jeans, Glenn Campbell, Sonny and Cher, the Righteous Brothers, Paul Revere and the Raiders, the Crystals, Wayne Newton, Frank Zappa and many others. She also can be heard on the sound track of many TV shows, including "Mission Impossible", "M.A.S.H," "The Streets Of San Francisco," "The Brady Bunch," plus some movies: "Airport," "Walk Don't Run," "Sweet Charity," "Plaza Suite," "Guess Who's Coming To Dinner," and "Beneath The Planet of the Apes." (A longer list of her session work appears at the bottom of this page.) She is the most recorded bassist, male or female, in the world.
We're very honored to have her thoughts here, which we've assembled from posts from the Bass Player mailing list she's allowed us to quote and some additional thoughts she has sent us.)
I started playing guitar at age 14, had 3 months of lessons with Howard Roberts' teacher, Horace Hatchett, who hired me to teach with him then in 1949, also started playing semi-jazz jobs then. Played odd jobs with all kinds of groups, on the road with a big band at ages 19 and 20. Played bebop 1956 through about 1963 with the finest jazz groups in L.A. Mostly black clubs where the jazz was hottest. I was born in 1935 in Everett, Wash. Came to California in 1941. Lived in a housing project in Wilmington, Calif. Grew up poor. Accidently got into studio work in 1957 when Bumps Blackwell heard me at the Beverly Caverns with the Teddy Edwards jazz group (with Curtis Counce on bass, Billy Higgins on drums) and asked me to do recording sessions with Sam Cooke.
Did lots of record dates and did practically all of the Phil Spector 60's sessions. I accidentally picked up someone's Fender bass when the bass player didn't show on a record date at Capitol Records in 1963 and became quickly the first call bassist for all of the good lines I could create.
Think the record of being the most recorded bassist, male or female, will stand.
---
Just wanted to say that I thought it was great to work for Brian Wilson. He always was and always has been a good guy, musical genius (us studio musicans all admired him and still do), and a good commander-in-chief.

He wrote practically all the music (once in a while we'd get a lick in but all the notes came from his head), produced it all, and I thought he sung it all, well nearly all. Chuck Britz would just sit by after setting up the board at Western and Brian would also mix it.

Never saw drugs or booze in the studio (one beer one time that's all) and don't know where the dumb books and terrible lying TV stories get their stuff (probably from the same garbage the other music bio book writers get their dirt, so the public will spend good money to read trash), but it was so unlike Brian I almost laughed. You can believe that news media hype if you want to.

But you are right to believe in Brian. He is someone good to believe in. I'm not trying to whitewash anything, just relate the truth about him. What he did in his personal life is none of my business. We all have some tough times, but the fact is when I worked for him a few months ago, he was the same ole Brian, a pleasure to know and work for.

We all respected Brian. Yes, those were 99% his notes. Once in a while we got a lick in, but he arranged, wrote, produced (once the engineer set up the board Chuck usually just sat there) and experimented. This took the time and made the dates long, but it was our job and we liked Brian very much. Still do.
---
As for Brian Wilson, he's fine, doing well. We did a memorable session together a few months back (with he and his two daughters singing) and it was pretty emotional as it was the first time I've seen him in over 25 years. And while it was a little awkward talking at first, with so much to catch up on, it felt like old times. He's the same Brian I worked for before, cool, calm, very much the boss with the hugely talented ideas and musical genius. Hal Blaine, Tommy Morgan, Dennis Budimer, etc. a few of us oldies with some of the best new younger talents too, all nice great guys, and it was pleasurable. We all had been through the wringer in one way or the other and were glad to see each other. The music was pretty good, a good groove from the start like it was just last month that we last played together.

Brian had his wife and mother there, very nice chatting with them. But I did bring up the fact about that terrible book, crazy phony TV thing about his life (such a pack of lies and slander), and how can people believe such things? But Brian just was unperturbed and kept working doing what he loves, getting the session going. He should be doing film scores with that huge talent he has.

I was told a little later that he hates interviews and will say anything to get rid of the interviewer, even to the point of making up stuff like, "Yeah, I used LSD," which is what they wanted to hear anyway. Just dirt stuff, not really anything truthful.

I never saw drugs with Brian, not even booze. (That's not to say that he didn't do drugs. He says he did some.) One time a beer. Hear that you sleaze rags out there?!!

He was always good to work for, but the dates were long. He loved to experiment, but always paid us well, on time, and joked with us, loved our company and we loved his, always the master at his craft, a really good person too. He ought to sue some of those awful rags for the crap they print about him.
---
Brian to me is the musical genius that everyone thinks he is. I worked for many many sessions for him. He is one of the greatest people in the world, very kind, very strong. Make that very very strong. And he should have his rightful place in the world amongst the geniuses of the music world. His beauty is apparent in his music, and that's a truth that no one, no matter how hard they try, can take away from him.
---
Since I hadn't seen Brian in about 25 years, and then to work with him again a few months ago, that was a very emotional time. It was hard to keep on an even keel at first. The emotions ran deep. We all felt the same way, Brian, myself, Hal Blaine, Tommy Morgan, Jay Migliori. It's as if we all had been to hell and back at the same times in our lives and we were still here to record again together. Brian took care of business as usual with his strong personality and self-confidence (fragile mind? are you kidding? Brian was the strongest I ever saw in the studios). There was a lot of chatting going on, his gracious wife and very nice mother were in the booth. We were pretty excited about being around each other again. And the love of his friends was so apparent. It was almost a party. All this and parking places too.

Hal Blaine lightened the mood with his usual jokes and stories. Brian and I awkwardly tried to catch up a little chatting too. Tommy kept saying, "This is the best I've ever seen Brian" and Jay kept smiling from ear to ear, that handsome Italian.

We recorded just one song for Brian and his daughters to sing on: "Everything I Need", but the groove was instaneous. It was like it was last month when we last recorded together, except this time it went through a digital board. It sounded a little different, but eventually Brian got his usual larger-than-life big sound. And then overdubbed accordian and harmonica. I felt like I was transported back to the 60s when we did a lot for Brian.

People ask how Brian communicated to us his ideas. First, he'd bring in music parts, then tell us what he wanted through the mike, or just sitting down and playing piano with us. He was always in total command.
---
About "Pet Sounds," Brian was in his glory when we first recorded this (Hal Blaine drums, Lyle Ritz on string bass on most, Chuck Berghofer on one, Ray Pohlman on Fender Bass on 4, Barney Kessell - Tommy Tedesco - Bill Pitman - Glen Campbell - Billy Strange are some of the guitarists, Jay Migliori on sax, others too, yours truly on Fender Bass on the rest of the tunes). Among some of my favorites I played on are: "Sloop John B.", "Wouldn't It Be Nice", "God Only Knows," "Caroline No," "Let's Go Away For Awhile," "I Just Wasn't Made For These Times," "Don't Talk - Put Your Head On My Shoulder," and "Pet Sounds." We knew this was going to be big. Brian had a certain love that was evolving with his talents and this was the best yet to date, something special was going on, we all felt it.

Chuck Britz, the engineer at Western, set up the board as usual, and the rest was done by Brian, who not only co-wrote the songs with Tony Asher, wrote the music parts, but then would proceed to produce and engineer. And sing. One time, he was so proud of a multi-voiced (about 12 tracks or so) thing he single-handedly cut, he played it for us and we were all amazed. Barney Kessel couldn't get over it (and this from a famous jazz man). Yep, we were in awe of Brian, he was scary with all that talent.

It was great to work for him, but it did get tedious at times with all the hours (Hal on his crossword puzzle) and I would chat with the guys etc. Even Lyle Ritz got bored and started a little fire with his music just for fun. Lots of coffee kept us going but Brian knew exactly what he wanted and kept us all going.
---
People try to compare Brian to Phil Spector, but the two were as different as night and day. And while they both are talented men, just very different in the way they worked too. Phil was more into the whole "spectre" of sound (excuse the pun). He utilized the great echo chambers (designed by Dave Gold) at Gold Star Recorders (Dave Gold & Stan Ross partners) and used Stan Ross at first, but then Larry Levine did all the engineering. Phil would drive him nuts at first, requiring all the levels full blast. Many an ear would ring after hearing a playback. But we knew Phil was after "something" and being the wit he was, it sometimes was "group therapy" night as he'd pick on someone's Achilles heel all in fun. You couldn't take anything Phil did or said to you with great seriousness.

It was also long hours with Phil, 29 long takes, 35 long takes, one song 3 hours and then he'd cut a B side with either Howard Roberts, Tommy Tedesco or Barney playing a jazz guitar solo in one take.

On the Righteous Bros. records, Ray Pohlman (who was the #1 studio recording Fender Bassist in L.A. since the mid-50s, the very first electric bassist) played bass on all those fine hits (I did get to play electric bass on "Soul And Inspiration" though) and Ray did a fine job on "You've Lost That Lovin' Feelin'", "Unchained Melody" etc. I played guitar on those. The room would usually hold a crowd of musicians, Sonny Bono would sit in with the percussion section playing tambourine until Phil would call him saying, "Telephone, Sonny" then as soon as he was out the door, we'd do the take (to the gratefulness of the percussionists). The booth was constantly crowded with people. What a scene, but fun!

We knew as soon as we played them that those tunes would be big hits easily. There were arrangements (usually from Jack Nitzsche who used to work for H.B. Barnum while honing his arranging skills), but we also put a little of our stamp on them, a few licks here, some rhythm patterns there. "Don't move the mikes," Phil would warn if we got up to take our 5-minute break which we were lucky to get. He didn't want anything to touch the "sound-waves" of that room once he had gotten balance. "DON'T MOVE THE MIKES," so we were very careful. The whole band was in the room. Some were playing chess, or throwing darts to naked ladies drawn on the walls. Phil would sometimes dress in outlandish costumes and then use his psychological tricks on us. We were ready for him.

The Blossoms did most of his tracks (didn't matter who the group was) and Larry would shudder when we all got pregnant at the same time but kept on working. You sure saw a lot of Darlene Love, a great person, happy personality and loaded with talent. Us girls would kid a lot, but we all knuckled down to take care of business.

Not enough credit is given to these fine men at Gold Star, Dave Gold, Stan Ross, and Larry Levine, who had a lot to put up with during the heat of those early dates.

While most of the guys loved Phil (I did too, back then), he's called me for work a couple of times, but I had to refuse for various reasons. Just didn't feel right at the time, but I still respect what he did.
---
About that term "Wrecking Crew". Tommy Tedesco and I were talking about that when we made a filmed interview together talking about the "good ole days" in the studios. It sounds like we're all lumped together as one band, but that's not true. We were all independent. It's just Hal's (editor's note: drummer Hal Blaine) pet term of description.

The film we cut should be about done now and should be very entertaining, the four of us: Hal Blaine, Tommy Tedesco, Plas Johnson, and myself talking about so many producers, record dates (not so much about film calls), some of the stars, and what we remembered about those times, especially about Brian Wilson, Phil Spector, Sonny & Cher, other very important dates, incident with the stars, the record companies etc.

We were called "studio musicians" and all belonged to the Local 47 Musician's Union which at that time had about 17,000 members alone in the L.A. area (it's quite a bit smaller now). We worked as "independent contractors", that is, we booked ourselves via having an "answering service" a phone exchange listed in the Union book printed every year, still is reprinted every year.

While it sounds glamorous, it was hard work, and fairly closed to outsiders too. But we all tried to encourage good new talented people when we could. You wanted to surround yourself with the best. A lot more than musicianship was at stake, though. You had to get along with people, be on time, be professional in every way. No soreheads allowed. No one held your hand or played your instrument for you either. You were on your own, but we did have a close-knit feeling among us all. We got hired by word of mouth mostly.

You NEVER turned a record date down, or a movie/TV film call for that matter either or tried not to, and you rarely announced an "out-of-town" vacation too. I remember a particular time when I had to get away, took the kids and housekeeper up to a houseboat in the Bay area, then made it up to a Northern California lake area, just a gorgeous place for the kids. But a movie contractor found me with a well-placed phone call and insisted that I have to come back for a movie score "NOW", and that meant you had to obey. There was a lot of competition out there ready to take your place if you didn't take care of business.

I have in the past recommended several musicians, and only one or two couldn't cut the mustard. One was mostly a record date person and couldn't read well, didn't have the correct instruments, was late, etc. and I was told by the contractor NEVER to recommend that person again or my career was threatened. That's how strict the work is in the movie studios, but this is to be expected. It costs a lot of money to cut a film score.
---
Fox studios was my favorite studio to record at, although Universal was where I probably did the most. We cut "M*A*S*H" (even got a re-use for that), "Room 222," the "Planet Of The Apes" pictures, and other fine ones there. "Ironside," "Mannix," "Streets Of San Francisco," "Sweet Charity," "Pawnbroker," "Airport" we did at Universal. Warner Bros. was where we did the Cosby TV show and some fine movies, and Paramount some good things too. Goldwyn was a favorite of Quincy Jones' and we cut many of his fine scores there such as "In the Heat Of The Night," "In Cold Blood," and another fine film by another composer, "Guess Who's Coming To Dinner." Goldwyn was where the first talkie with Al Jolson was cut.
---
A great deal of studio work is fighting boredom while so much technical equipment is readied to make a take, etc. Barney Kessel used to speak of the "dark caverns of the film studios" and they were just that. Most of the time the lights were totally out in the movie studios and just the music stand lights were on as we recorded a film score with our earphones on listening to click tracks that coincided with the frames of the film (a steady metrenome beat) while the movie was shown big-time on the wall somewhere.

Nothing was really cut "ad-lib" (without a beat). It was written to sound that way at times, but there was a click track constantly beating in your head. Counting was the key to not lose your place in the music and the copyist would write indicated cued parts from other instruments just in case to insure correct entrance of your playing part.

It was an exacting business. You didn't feel any tension but you did focus very well and were very aware by listening too. And you read well.
---
About "Smile," I was listening to some tapes recently and found my voice all over that, laughing teasing the guys, etc. But Brian, that will give you goosebumps any day, no wonder his fans are so fanatical, that music is direct from heaven, the big guy is something else alright.

Some of the "Smile" tracks I played on: "Good Vibrations" (all but one version with string bass), "Do You Like Worms," "Surf's Up," "Heroes & Villains," "Child Is Father Of The Man," "Cabin Essence, "Wind Chimes," "I'm In Great Shape," "Vegetables," "Mrs. O'Leary's Cow," "Love To Say DaDa." I think "Smile" is even deeper than "Pet Sounds" now. He was sure into something.

On one take of "Good Vibrations," you hear me play with Brian during that organ quiet middle part and it's a bass with fuzztone. I used the Maestro box, the same fuzz I used on "In The Heat Of The Night" movie cues with Quincy Jones, but that didn't make to the final version. Brian has a PERFECT sense of time, much better than me, and you hear him play the middle part of "Good Vibrations" on organ. You cannot beat his fine sense of time on the bass pedals. There's even one "Good Vibrations" just with the string bass (by Lyle Ritz).
---
I've worked with probably the finest drummers in the studios, and was spoiled to some of the finest playing I've ever heard from the likes of: Shelly Manne, Louie Bellson, Earl Palmer, John Guerin, Paul Humphrey, Jack Sperling, Sharky Hall, Charley Blackwell, Jesse Sailes, Frankie Capp, Hal Blaine, Jeff Porcaro, Larry Bunker, Nick Ceroli, Ed Shaughnessey, Jake Hanna, Ed Thigpen, Mel Lewis, Roy McCurdy, James Gadson, Nick Fatool, Alvin Stoller, Panama Francis, Harold Jones, Jim Keltner, Sol Gubin, Harvey Mason, Irv Cottler, Ron Tutt, Jackie Mills, Jim Gordon, to name just a few.
---
On the session for "The Beat Goes On", I was on acoustic guitar (usually I played electric 12-string fill parts for them but this was different), and the song was played for us. And it sounded like a nothing tune, a one-chord droning on "song" with a boring dotted quarter, then eighth single-noted bassline. That was Bob West on electric bass playing the written part. Well, this was going to be a hard one. I was playing a lot of bass dates already so automatically started to play several made-up basslines to see if I could come up with a rabbit out of a hat for this dog of a tune. About the fourth or fifth line, I came up with the line you hear today. And I do credit Sonny stopping the band and saying, "That's it, Carol. What's that line you're playing" so I played it and he gave it to the bassist, and you hear both of us playing it together which was kind of common in those days, guitar and electric bass together in unison. I wish you could've heard it with the original boring line and then heard the difference. You would know why I think the bassist is the really the arranger of the band. It made the tune happen, and of course made some loot for Sonny & Cher (and a few dimes for the musicians).
---
Being an experienced musician and loving Latin music, it was easy to make up good samba or conga type bass lines which made the music kind of funky. The lines I came up with in the Cosby "Hikky Burr" have samba, conga and a few blues fills in it too. It's a good study of a good rhythmic piece for bass, but there are many more I played on records, too, such as "Feelin' Alright" with Joe Cocker.

"Feelin' Alright" was cut late in 1968 at Sunset Sound with just Paul Humphrey on drums (and he was wearing his metrenome in his ear too), Artie Butler (who later wrote many fine arrangements and movie scores) on solo piano, David Cohen on guitar, and Lauder on congas in a separate room and Joe in the studio singing. We quickly picked up what they wanted, a latin-soul type of rhythm (there were no charts, it was a two-chord tune only), quickly worked out the verse and chorus parts and the famous instrumental break that Artie played. The great background voices were overdubbed later by sisters Brenda and Pat Holloway and Clydie King.

Paul immediately struck up a semi-samba funk drum part and I went a contrasting way with a rhythm for a bassline. The chorus features the bass playing mostly down beats while Paul was accenting up beats, then we switched places for the verse. It was that simple. Joe had a lot to do with the feel though. He is a very soulful guy and we got along instantly. It was a great date. But the real take (I thought) was the take before the one you hear. I always thought that was the better take, but something happened, erased, or not recorded or something like that. But "Feelin' Alright" was a big hit twice, so I guess that's pretty good.
---
Something reminded me of the hit date with Barbra Streisand late 1973 that we cut live with all the band and strings at TTG Studios (where Zappa, the Ventures, and others cut also) one night. We ran down the music for any mistakes and took a break waiting for Barbra, she was pretty late. I had to turn down the work on "Hello Dolly" previously at Fox which she sung and starred in, as I was previously booked, so I looked forward finally to work with her.

The huge orchestra finally assembled from our break, and we did 33 straight takes of "The Way We Were" with Barbra singing every one, with Marvin Hamlisch conducting, and the songwriting team (Marilyn & Alan Bergman) in the booth. I had the pleasure of chatting with the Bergmans many times over the years. They had written so many great songs (used on Michel LeGrand scored movies), and you knew this was going to be a biggie. It was rumored to be part of a "hit movie" but this was the single record we were cutting, not the movie score. So the stage was set for something "heavy".

Take after take, we kept going, each take as intensive as the last one, until I looked at Paul Humphrey the drummer like, "When is this going to end?" So I started to really improvise around the written part which up to that point, I had sightread as was up to this 33rd straight take. After a few arpeggios, especially in the bridge, it felt like "the" take, I looked up and caught Ms. Streisand's fast gaze from her little soundbooth as she was holding a long note (through the glass window), our eyes locked like, "Wheeeee. This is it", and finished the take. Paul looked at me and we both smiled, having played on a lot of hits together ("Feelin' Alright" w/Joe Cocker etc.) We knew this was the take, too.

So we cut one more tune and packed that one away. I meant to walk up to at least meet her, but the whole band, about 50 pieces, beat me to it, so I walked out, waving bye to Marvin (boy, was he happy), and also waving at the engineers, studio owner Ami Hadani, and also Fred Smith, who earlier had written hits like "Western Movies" etc.(working as 2nd engineer). I remember how peaceful the world felt as I drove home that night. Another day of pretty music well-done, another good hit. That record is really my favorite recording I'd have to say. It meant a lot to me as I had some personal past to think about too.
---
"Memories." Yeah, a great sentimental song. Barbra really sang it. The last take was her best, and I don't think Barbra overdubbed that vocal again. That was her at her best.
---
Subject: Re: "Did we record the Monkees?" You bet we did. Almost the same crew as who had cut the Beach Boys things. The first two albums. In fact, the way the Monkees got started is that we had cut many fine tracks for another group which never came to pass, and then they used that stuff to help form another group which became the Monkees. Never really saw them much (as far as I can remember) and just did tracks, that is the basic music without the singing.

Hal Blaine (drummer) did a seminar once down here in San Diego this year and he told of one day when we were recording their stuff in the big studio at the new RCA studios, that the Monkees were simultaneously holding a press conference in the smaller studio next door, pretending that they were in the middle of "their" recording session (it was all a fake) and that it was "untrue" about the rumors that they didn't play on their own records. We just laughed at that at the time, but they keep trying to pretend about those dates. I do have to say that I personally thought that the Monkees were very nice guys, though, versus other groups we worked for who were a little egotistic, etc.
---
My radio just played "Sloop John B," one of my favorite records. I loved it when we cut it, and even today just the same. That's Billy Strange playing guitar you hear a lot on it. Brian Wilson asked me to use a lot more treble sound than I ordinarily did (my Fender 4-10 open back amp was miked), but that's where I came in isn't it. Brian Wilson, the best of them all, the kid did good.

Thanks for writing. Carol Kaye.
---
A more detailed list of Carol Kaye's electric bass session work: The Beach Boys: "Wouldn't It Be Nice," "Help Me Rhonda," "Good Vibrations," "Caroline No," "Sloop John B," "Heroes and Villains," "California Girls," most of Pet Sounds LP. Electric guitar on an earlier hit, "Surfin' USA." Plus work for Joe Cocker ("Feelin' Alright") Barbra Streisand ("The Way We Were"), the Marketts ("Batman Theme"), Simon & Garfunkel ("Homeward Bound"), the Righteous Brothers ("Soul & Inspiration"), Ike and Tina Turner ("River Deep Mountain High"), Ray Charles ("America The Beautiful" & "Don't Change On Me" & "I Don't Need No Doctor" & "I Chose To Sing The Blues" & "Understanding" & "Feel So Bad") Brenda Holloway ("You Made Me So Very Happy"), Herb Alpert and the Tijuana Brass ("Whipped Cream"), Andy Williams ("Love Story"), Lou Rawls (""Natural Man," "Unforgettable" and "Tobacco Road"), Glen Campbell ("Wichita Lineman" and others), Motherlode ("When I Die"), Frank and Nancy Sinatra ("Something Stupid"), Nancy Sinatra ("These Boots Are Made For Walkin'," "Sugar Town") plus the Monkees, Gary Lewis & the Playboys, the Buckinghams, Paul Revere & the Raiders, Gary Usher, Gary Puckett and Union Gap, Bill Cosby ("Hikky Burr" with him and Quincy Jones, "Chump Change" with Quincy also). Did over 10,000 recording sessions in Los Angeles. Was first call on elecric bass from 1964 through about 1974, but played electric bass on all sessions from 1963 through last thing I did, the theme for "Soap" TV series (1981). Guitar hits: "La Bamba" Ritchie Valens, "Zippity Doo Dah" Bob B. Soxx & Blue Jeans, "Unchained Melody" & "You've Lost That Lovin' Feelin'" Righteous Bros., "The Beat Goes On" (he used my bass line doubled with bassist Bob West) & "He's A Rebel", "I Got You Babe" & "Baby Don't Go" & "All I Really want To Do)" & "Bang Bang" Sonny & Cher (& "Alfie" Cher), "Danke Shoen" Wayne Newton, "Mexican Shuffle" Herb Alpert and the Tijuana Brass, "Mothers Of Invention & Freak Out LPs w/Frank Zappa.
TV Shows: "Mission Impossible", "M.A.S.H.", "Room 222", Kojac, "Hawaii 5-O" (played bass on Ventures' thing of this), "Ironside", "McCloud," "Addams Family," first Cosby TV (Quincy Jones), "The Streets Of San Francisco," "Brady Bunch," "Hogan's Heroes," "Alice," "Cannon," "Soap," "The Paper Chase," "Mannix," "It Takes A Thief," "Wonder Woman," "Peyton Place," "The Love Boat," "Get Smart," "FBI," etc. A few movies: "Airport," "The Thomas Crown Affair," "Walk, Don't Run," "Sweet Charity," "The New Centurions," "The Pawnbroker," "Slender Thread," "Plaza Suite," "Smokey and the Bandit," "Guess Who's Coming To Dinner," "Beneath The Planet of the Apes."
---
Carol Kaye CDs ("First Lady On Bass", Joe Pass "Better Days", "Calif. Creamin'" (guitar), are available from Hot Wire Records, Box 82, D-55586 Meisenheim, Germany (phone: 06753-94571 Fax: 06753-94572 Email: Hotwire.Records@t-online.de
Carol Kaye's book/tape teaching series available from Alfred Publishing Co. Inc., Van Nuys, California. phone: 1-800-292-6122 and Email: 70740.475@compuserve.com

Carol Kaye self-teaching videos, available either direct from Carol or from the MIX Bookshelf at 1-800-233-9604. You can contact Carol Kaye at carolkaye@earthlink.net or by snail mail: CAROL KAYE, P.O. Box 2122, Canyon Country CA 91386-2122.