Here, there and everywhere...more links!
Last revised Sept. 13, 1998.
We'd appreciate it if you'd email us if you find a link that doesn't work. Websites go down overnight, and though we check these as often as possible, we obviously can't catch them all. Thank you.
The Byrds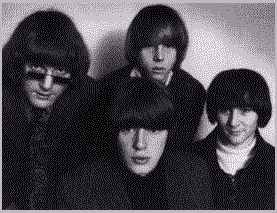 Official Byrds Home Page (Kenton Adler)
Byrds guiding light Roger McGuinn is very active in this web site, and has contributed many pictures and some exclusive sound files, including a monthly folk song available for downloading. Given the fact that The Byrds were highly regarded by the Beatles (just listen to "If I Needed Someone"), you should be sure and visit this site. The picture files also contain rare shots of George and Ringo.

Roger McGuinn Home Page
Roger's official web site, with links to the Byrds' site above and his Folk Den archive on the 'net, plus his tour schedule and all sorts of stuff. I don't think, in my wildest dreams, I'd ever figure I'd be able to interact with one of my heroes in this way. Ah, the wonders of the Internet!

The Byrds' Nest
This new web site from Richard Russell, moderator of the Byrdmaniax mailing list, has information on the group and solo efforts by the members, news and links.

Subscribe to Byrdmaniax mailing list
A direct mail link to subscribe to the mailing list. (Please indicate that you wish to subscribe in the subject header.)

Byrdmaniax Archives
Archive of the Byrdmaniax mailing list. All past issues are available, plus tour schedules and other Byrds-related items.

Byrds Reissue Information
Columbia/Legacy's official site for information on the Byrds reissues.

Roger McGuinn Interview
A candid 1970 interview conducted by Vincent Flanders. Interesting reading.

Byrds Online Appreciation Society
Tom Robinson's tribute to the group.

Did Gavin Shoot Down the Byrds by Ben Fong-Torres
Interesting piece by the former Rolling Stone writer discussing the theory that the Bill Gavin report kept "Eight Miles High" from being a hit by linking it as a drug song.

The David Crosby Pages
Part of a Crosby, Stills and Nash website, this section is devoted to Croz, mostly with material from his post-Byrds career. Please be sure to check out the first story in the the press clippings section called "Serving Time, Getting Straight." It was written by my good friend (and Red Sox fanatic), the late Dave O'Brian, and the story was the only interview Crosby gave while in prison in Texas.

Jim Corey's Home Page -- The Byrds
Nice collection of Byrds-related links..

The Beach Byrds??
From Dauber's Beach Boys site, 20 different similarities between the Beach Boys and the Byrds. Ummmm....


The Beach Boys




Beach Boys Official Fan Club
News and fan club information.

Billy Hinsche
Site by Hinsche, longtime musician with the Beach Boys, with news and items for sale.
Break Away With Brian Wilson
Brian's official fan club site has updated news about Brian and information about his newsletter.

Official Mike Love Fan Club
News about Mike and fan club info.

Brown and Dutch Public Relations
Site for the group's public relations firm, which has official statements regarding the group.

Van Dyke Parks
Parks' official site has a biography, discography and a wide range of offerings that reflects his immense talent as a musician and composer.

Mike Wheeler's Tribute to Brian Wilson
An extremely comprehensive look at Brian Wilson and the Beach Boys, including discographies, essays, bootlegs, lyrics and chords, and pictures. A tremendous effort.

Brian Wilson: Collected Stories and Interviews 1966-1997
Very comprehensive resource of articles and information about Brian. Highly recommended.

The Beach Boys
Discography, sessionography and other research, plus some links.

Dauber's Li'l Beach Boys Page
Lots of interesting stuff, including some sound files.

Beach Boys Variations
A study of differences in various Beach Boys songs.

Surf's Up For the Beach Boys
Paul Williams' lengthy and detailed examination of the "Good Vibrations" boxed set, housed on the Addicted To Noise site. Williams is a pioneer rock critic and the founder of Crawdaddy! Besides discussing the boxed set, Williams talks about meeting Brian.

The "Smile" Sessions
An examination of the sessions making up the album, with a track-by-track description taken from a bootleg (and therefore not necessarily what Brian had in mind).

Landlocked
A new site by my friend and Beach Boy fan Leon Lively. Just getting started. (Leon was the lucky fan that received a phone call from Brian and Melissa a year ago.)

Brian Wilson Interview
An interesting Brian interview from the San Francisco Bay Guardian.

MCA Brian Wilson biography
Includes samples from their release "I Just Wasn't Made For These Times."

Orange Crate Art Review
A review of the Van Dyke Parks/Brian Wilson album (1995) with cover art and sample audio samples.

KCRW Interviews Brian Wilson, Don Was and Van Dyke Parks
Interview in RealAudio format

Theremin
Homepage for the documentary of the same name. Includes .avi of Brian
Photos of Brian
Brian and Van Dyke Parks at the June 1996 Songwriters Symposium.

Interview with Van Dyke Parks
From Addicted To Noise

Deuce Coupe IV
Information on a dance work based on Beach Boys music, choreographed by Twyla Tharp and performed by Canada's Royal Winnipeg Ballet.

Forrest Gump CD-ROM
A promotional site for that excellent CD-ROM that includes sections on the Beach Boys and the Byrds plus many other '60s artists.

Beach Boys Rarities
Site put together by Brad Elliott, who compiled the now out-of-print "Beach Boys Rarities" album, with details on how it was put together, what was on it and what didn't make it.

Encyclopaedia Britannica Presents The British Invasion
Extensive multimedia look at the '60s British Invasion, including sections on the music and fashions of the era. Excellent.
The British Invasion
Dedicated to the history and music of the '60s British Invasion, including "This Day in Recording History."

Making Time: British Beat Groups of the 1960s
Very nice site with information on a variety of '60s British Invasion groups and links to a number of sites.

My Generation
Current news on '60s British Invasion groups.

The Official Billy J. Kramer and the Dakotas Web Site
Discography, news and recollections.

Dave Clark 5
Unofficial site with images of rare recordings and group photos.

Gerry Marsden and the Pacemakers: The Official Website
The latest news on Gerry's activites, plus his books for sale..

A Tribute to Gerry and the Pacemakers
Unofficial site with news, discographies, transcriptions and lyrics. We've had the honor of meeting Gerry on two occasions and he's quite a dynamic personality.

The Official Hollies Home Page
News (including new releases), history and all sorts of information for one of our favorite '60s groups.

Herman Hermits Fan Page
Biography, discography and past and present info.

Peter Noone Fan Club
Appears to be an official page, with email links and news.

Small Faces: Room For Ravers
Very comprehensive site. It only focuses on the Marriott period, though, and doesn't include anything on the Rod Stewart-led Faces.

The Searchers Official Homepage
The group's official website, with past and current info about the band's activities. If you're reading this, guys, how about a few more U.S. shows?

The Searchers Home Page by M. Denger
Great site with lots of indepth historical info we doubt you'll find elsewhere..

The Searchers: Liverpool's Finest '60s Pop Band
A nice tribute with pics and a biography of one of the best groups ever to come out of Liverpool.

The Tony Jackson Group -- the Vibrations
A fan site for Jackson which concentrates more on his career as a member of the Searchers.

Chad and Jeremy Fan Page
A biography, discography, pictures and lots of trivia.

The Kinks Web Site
Fan page with news, discography, pictures, sound files and other info.

Kinks Alive
Another fan page with an extensive archive of articles on the Kinks from as early as 1964.

Manfred Mann's EarthBand
This official site has tour info and merchandising for the EarthBand, but with some references to the British Invasion group.

Spencer Davis Group
Official site with a history, concert schedule, discography and merchandising for the group.

The Official Yardbirds Site
A history, discography, merchandising, news, interviews and rare photos.

Eric Burdon Web Site
Official web site with info about Eric's career (including his recollections of the Animals and Jimi Hendrix), tour schedule and art work.

Steve Winwood.com
Official site, very nicely designed, with info on all phases of Winwood's career -- Spencer Davis, Traffic, Blind Faith and solo, plus multimedia clips and more.

A Girl Called Dusty
Unofficial site with news, trivia, discography and pictures.

Zombies Fan Page
Extensive site with interviews, news and tons of info.


Others

The High Llamas
The Llamas have become one of our recent favorites. This is an excellent site with a detailed chronology, plus audio and video clips.

The High Llamas
Official record company site with discography, lyrics, news and a bulletin board.

Uncle Ricky's Reel Top 40 Radio Repository
What an absolute blast this site is! It's an extensive collection of vintage radio airchecks in Real Audio format. It includes some of the classic deejays, too, like Wolfman Jack, Cousin Bruce Morrow, the Real Don Steele, Alan Freed, Dan Ingram, Robert W. Morgan and many more. We guarantee you'll spend a lot of time here. You'll find two links to Beatle-related items by using the site search: B. Mitchell Reed on the Beatles from KMET and Murray the K and the Beatles, 1964.

The Mining Company: Classic Rock
Great one-stop reference for information on classic rock and links to selected web sites for each group.

The Electronic Telegraph
This is the web site of the London Telegraph and it's a very cool way to keep up with what's happening on the other side of the Atlantic. They even have some Beatle news occasionally and you can do searches for past stories. Registration is required, but otherwise it's free.

Mark Lindsay Home Page
Mark Lindsay was the lead singer for Paul Revere and the Raiders, one of the greatest American groups of the '60s. This excellent site features the history and current news of Mark's career with the Raiders and as a solo performer. Through the site, Lindsay also sells autographed CDs, cassettes and tapes of his Raider and solo recordings, plus other memorabilia.

Jerden Records
Jerden is one of the pioneer record labels of the Northwest and the first home of Paul Revere and the Raiders. These days, they specialize is music and spoken word albums, including "The Beatles Tapes" series.

The Avengers Unofficial Home Page
A superb resource with all sorts of information related to the television series featuring the adventures of John Steed and Emma Peel. To paraphrase a line from the series, for "Avengers" fans, this one's needed.

"The Prisoner" Starring Patrick McGoohan As Number Six
A great source of supplemental information about that excellent series, one of the best in the history of televison.

The Match Game Home Page
"Get ready to match the stars!" If there was one game show I was addicted to in the '70s (and fondly miss in the '90s), this is it. This wonderful unofficial page has theme songs, pics and all sorts of great info. Now, if only my cable company would add the Game Show Network (which airs reruns of the MG)!

The Buchanan Family Web Page
Webmaster Larry Buchanan, a friend of mine, has developed this site to provide a safe place on the 'net for his children, and includes only links to safe places for kids and fun things for them to do.

Paul Burton
The web site of my good friend Paul Burton and his wife, Angela, in the UK. Like me, Paul is a fan of the music of Sun Records, especially The Killer, Mr. Jerry Lee Lewis!

The Official Jerry Lee Lewis Website
Speaking of the Killer, here's the great man himself...this is Jerry Lee's official website. (Would Elvis have done this?) Lots of up-to-date info, touring schedules, fan club info, merchandise, etc. I've been lucky enough to see the Killer six times (got to shake his hand once!) and as the saying goes, when he's hot, nobody can touch him (or something like that). The Killer rocks on! (It's quite ironic that the music of Sun Records and the whole rockabilly scene is much bigger in Europe today than it is in America.)

Jerry Lee Lewis
And here's a Dutch fan's website. Discography, bio, pics and other info.

Chad Smalley
With so many awful sites every where you turn, Chad's really stands out from the crowd. A very impressive, uniquely designed personal site. His artwork reflects a decided John Lennon influence. Well worth a look..

The Frank Sinatra WWW Page
When it comes to singing talent, I don't think anyone has more of it than Mr. Sinatra. Need I say more? This great site has a wealth of resources for anyone interested in his career.

The Mick Taylor Home Page
Hey, remember when the Rolling Bones were the Greatest Rock 'n' Roll Band in the World? It was, in very large part, because of the guitar work of the fantastic Mr. Taylor.

Glenn Della Maggiore Home Page
"Dr. D" is my old buddy Glenn "Big D" Della Maggiore. Glenn and I shared a lot of good times together in the '60s and '70s, including as roommates while I was at San Jose State, and many memorable nights with the gang at Winterland seeing the Allman Brothers, Santana, Pink Floyd, Traffic, Black Oak Arkansas (the worst band I ever saw!) and many others. Glenn's now a learning technologies specialist at Alisal Community School in Salinas, Calif. Tell him "Nooch" sent you.

Remember When
A great nostalgic site full of music, TV and other nostalgic links about the '50s and '60s.

Dave's Smithereens Page
Webmaster Dave Persails is another friend who has the best website for the Smithereens on the Internet. Dave's also a huge Beatles fan and one of the nicest (and funniest) guys I've met online.

Crawdaddy
One of the best rock music magazines of the late '60s has resurfaced and made its archives, including coverage of the Beach Boys' "Smile" sessions, available again.

Triviana
A site from my friend DrGone@aol.com (aka John Orr), for all you trivia buffs.

Roy Orbison Home Page
A tribute to one of the greatest (and classiest) voices rock 'n' roll has ever known. Here's to Lefty Wilbury.

Timothy Leary Home Page
Leary's is a multi-faceted site that includes writings and press clippings and unusual things of the type for which he was known for. (Beatle-related trivia: Leary was one of the many voices present during the recording of "Give Peace a Chance.")

The Original Unofficial Elvis Home Page
Nice effort with lots of info, and lots of links to other Elvis sites.

The Nixon-Presley Meeting: The Documentation
Everything you ever wanted to know about this "historic" event, including pictures I'd never seen before, letters and memos from Elvis and members of the Nixon administration.

The Capt. James T. Kirk Sing-A-Long Page
You know about William Shatner's classic covers of "Lucy in the Sky With Diamonds" and "Mr. Tambourine Man," don't you? Yes, he sings...or tries to.

Monty's TV, Movie and Music Jumpgate
A collection of useful links to selected entertainment web sites (including this one). The main page, Monty's Master Index Page additionally has links to HTML tools, search engines and other areas.

San Francisco Giants Virtual Dugout
"The Giants win the pennant! The Giants win the pennant!" I was one of the fans in the Candlestick Park stands when we won the National League in '89. It was one of the happiest moments of my life. I experienced a different kind of emotion in those same stands on Oct. 17 when the earthquake hit before game 3 of the World Series. Go Giants (especially against those bums, the Dodgers)!

Scooter's Sports Club
"Scooter" is, of course, Phil Rizzuto, one of the all-time great baseball announcers (though nobody will ever beat the Giants' Hank Greenwald, who retired at the end of the '96 season. It won't be the same without ya, Hank!). Anyway, this is Scooter's outpost on the Web. By the way, notice the URL.

Impasse Records
An independent record label based in the Beatles hometown of Liverpool, England.