The Pete Best Band Live -- a review
7/23/03 at the King's Head, Campbell, CA.
---
From left, Phil Melia, Dave Deevey, Chris Cavanaugh and Mark Hay. Right, Pete Best on drums. (Photos by Steve Marinucci.)
By Steve Marinucci
Pete Best was there at the beginning. And those early Beatle days must have good memories for him because he's reliving them through the Pete Best Band, which played the San Jose, CA., suburb of Campbell July 23 in a British-themed pub called the King's Head. It was an appropriate place to play and the Best Band made the most of it in two shows that night.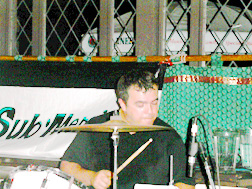 Roag Best, Pete's brother, is the band's second drummer.

We saw the second show, which was opened by a neat local surf band, the Submersians. They played a half-hour set of some great surf tunes, highlighted by a surf version of "The Munsters" theme. Very clever.

After a short break, the Pete Best Band came to the stage. Best was introduced by show producer Keith Putney as "the man who put the 'beat' in the Beatles." The crowd was enthusiastic and loud as the band broke into "Slow Down." The tempo was a shade under where it should have been, but the band rocked through it quite hard, giving a taste of what was to come -- an evening of the Beatles, even though it wasn't the Beatles.
Pete signs autographs after the show.

It's unfair to call the Pete Best Band a Beatle tribute, even though they play songs done by the Beatles and one of the members is a former member. The Pete Best Band is a throwback to the Fabs' Hamburg days.

And the Pete Best Band is a joy to hear. While various members of the group take vocals during the show, animated singer Chris Cavanagh is an enthusiastic front man. The rhythm section -- Mark Hay, Dave Deevey and Phil Melia, playing Rickenbacker, Epiphone and Hofner bass guitars, and drummers Roag and Pete Best are a solid combination providing the backbeat and kept the crowd going.

A couple of the songs deserve special mention. "My Bonnie" included both the slow intro and the faster version and it was fun to hear both again, as we've all heard so many times on record. On the other hand, "Sweet Georgia Brown" included the Beatle lyrics version. To be really authentic and avoid Beatle tribute labels, guys, drop the Beatle lyrics and do the original ones. "Some Other Guy," always one of our favorite songs, sounded crisp and sharp, as did "One After 909."

The biggest surprise of the set, however, was "Besame Mucho." Unlike the Beatles' Decca version, the Best Band's version emphasized the lead guitar that was pretty much buried in the Decca audition version. The result was a much more rocking version than we've heard before. Did the Beatles ever do it that way live? It's a question we'd like to know.

We strongly suggest you don't miss the Pete Best Band if you have a chance to see them. Few of us got to hear the Beatles before Beatlemania, but the Pete Best Band gives fans an idea of what those days were like. It's a nice reflection on the Beatles that the Best Band's set reveals that maybe more of the Beatles' talents were evident in those days than had been previously believed.

And it's a nice compliment that the Pete Best Band manages to evoke both the Beatles' spirit while adding a bit of their own -- and the audience comes out the winner. They're the Best of both worlds.

(An end note: The Pete Best Band would have played an encore, but didn't because local police were called to the venue because of noise complaints. That tells you they were really rockin' the house!)

Here's the show's set list:
Slow Down
What I'd Say
One After 909
Please Mr. Postman
P.S. I Love You
My Bonnie (with both slow and fast versions)
Besame Mucho
Sweet Georgia Brown
Long Tall Sally
Some Other Guy
I Saw Her Standing There
Twist & Shout
---