Ringo live in Houston, Aug. 11, 1995 at the Arena Theatre
Review by Dave Persails, pictures by Clarence Persails
(These photos are copyrighted by Clarence Persails and may not be reproduced for profit or used elsewhere without permission. And thanks to Dave for his help.)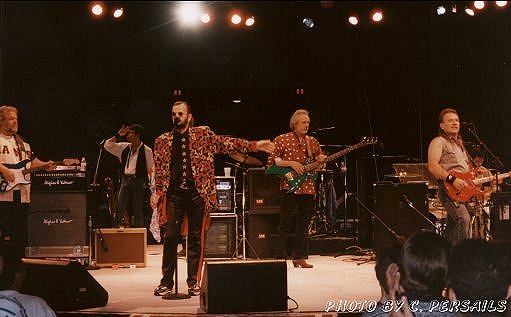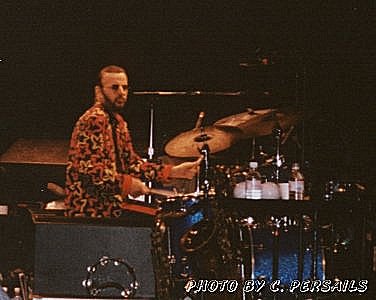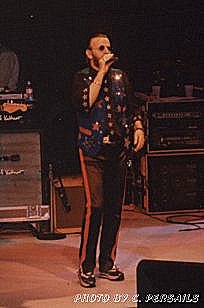 Ringo with the Third All-Starr Band Aug. 11, 1995 at the Arena Theatre, Houston, Texas.
(All photos copyright by Clarence Persails)
It was Ringo Starr's first visit to Houston in nearly 30 years. He has a new band of famous names this time, but, as it was so many years ago, the name "Ringo" seemed to be the most popular.

There were fans in their 50's and fans in their 10's, but they were here, in Houston, the town the famous drummer once considered making his home. Lucky for us he stayed in Liverpool, and met up with members of the world's most famous musical group ever.

Why, in 1995, should we still be looking back on those historical days? Indeed, Ringo's new band of All-Starrs present us with a nostalgia trip, all their own. It's not just the 60's we get to re-live, no, we can haze through sounds of the 70's, too. Billy Preston reminds us that rock music had moves, Mark Farner reminds us that rock was funky, and John Entwistle and Felix Cavaliere help us to remember that rock and roll used to be mod and groovy. Randy Bachman reminds us that rock could be everything you want to forget, and Ringo's son Zak Starkey, reminds us that rock is youthful. Not a bad package, really.

In fact, this is by far the best band of All-Starrs Ringo has put together. But lest you forget, Ringo put it together, he's the boss, and he's the Starr every man, woman and child came to see. All night long, they high- fived, hugged, kissed, and tossed flowers and applause at him. Fans rushed the stage in a frenzy not seen since, well, 30 years ago. Houston missed this lad, the funny Beatle, and they were letting it show.

What a show it was. Ringo led off with a newer rocker all his own, "Don't Go Where The Road Don't Go." Then the fab drummer broke the ice and addressed the crowd. "Well, it's good to be in Houston." The crowd roared. "Houston, Texas. This is Billy's hometown, he was born in Houston. Local boy! He may have left in his body, but his heart's always been here. That's what he tells us -- he left when he was one." The funny Beatle was still funny. He introduced the next number, reprising the only song he sang on that Houston stage three decades ago. "OK, I'd like to do another one for you now. It's a number I did in that other band I was in, called 'I Wanna Be Your Man.'" The 60's, and remebrances of "that other band" are still with us, and Ringo is more than happy to oblige.

There were solo hits, too, as Ringo brought out "It Don't Come Easy," "You're Sixteen," "Photograph," and the "No No Song," all sandwiched around favorite Beatles tunes. The band breezed through a faithful rendition of "Boys," and a very lounge-act like performance of "Yellow Submarine." After chiding the crowd that "even children know it," they wouldn't dare not sing along.

Perhaps there was one sign that time had set in, as Ringo introduced his next song, "a Carl Perkins number called 'Act Naturally.'" That got a funny look from John Entwistle, who knew better. Realizing he was mistaken Ringo quickly muttered, "Help me out, now. What number do I mean?" Which garnered a laugh from bandmates, before they broke into "Honey Don't." After the song, Ringo said "Thank you. Finally got it right." And then, as had been going on for some time, another woman ran up one of the stage ramps to touch the Beatle. "Yes, hi. Hello. Ah, hoo, hee, hoo, hoo ah. Take her away." He could have fun and poke fun at the same time, without missing a beat.

In another bit of stage patter, designed to make the audience feel like the show was made for them, Ringo announced "We've been touring now for three months, and I've been dying to get to this state, of uh, Texas." Yip, yip yows, and alamo shouts filled the air. "Because now, this line I've done every night for three months is gonna work. Are there any cowboys in the house?" More whooping and hollering. "There wasn't much response in Kentucky." Oh, the funny Beatle struck again. "Are there any cowgirls?" The same people shouted again. Maybe they weren't sure. Maybe they were answering for each other. "Well, this song's just for you, and it's called 'Act Naturally.' "

The fans attacking Ringo on the stage continued, at a fever pitch by now, and several of Houston's Finest positioned themselves all around the stage, with chairs to help block people out. But as they would stop this ex- Beatlemania in one area, another fan would break through to another part of the stage. It was getting way out of hand, and as Ringo pointed out, "You're going crazy over here!" No sooner had he said that and another fan walked up to Ringo for a high five. Growing tired of this display, he said "Make this the last, OK?" as he slapped the guy's hand and walked away. The round and revolving stage lent itself to this kind of adoration from the fans, but it was clear that the Arena Theatre staff were not prepared for the free-for- all that took place. On a couple of occasions Ringo left the stage while the others played their hits, leaving himself open to run through the crowded aisles of fans all wanting a piece of him. Security teams would form a loose wall down an aisle just before Ringo would run on or off the stage, but the crowd caught on, and would gather in large numbers on the aisle. Finally, the security people decoyed the audience on an aisle, only to take the celebrity up a different aisle. He was safe, it seemed, but sometimes, just barely. I don't think fans were out to do any harm, but some didn't mind just throwing body hugs all over him. Beatle-mania never died, it seems.

Finally, came the encore. "Usually when we play the regular gigs we all run off, you see. We all pretend we're leaving, and then the audience all make this noise, then we come back. You've been to a concert before, so you see what happens here is we're trapped! (Laughter from the crowd.) We can't go anywhere, so we're gonna pretend. The lights are gonna go out, and we're gonna pretend we're gone. So that gives you a chance to make your noise. " They do. The lights come back on. "OK, you've forced us to come back. I'd like to do a number now that probably relates to five or six people in the audience, it's called the "No No Song." The show closed with the crowd joining in strongly on "With A Little Help From My Friends." Ringo Starr had a little help from a lot of friends in Houston, Texas.