An interview with Lon and Derrek Van Eaton
On Apple Records, working with the Beatles and their new album
---
(Thanks to Lon and Derrek for taking the time and Lon's wife, Constance, for helping arrange this interview. And thanks to Lon, Derrek and Constance for supplying the pictures with George Harrison and on tour. Be sure to visit the Van Eaton's website at http://www.imagineabetterworld.com/, which opens April 20.)
This text may not be reprinted on other web sites or in magazines without permission of the Webmaster.
---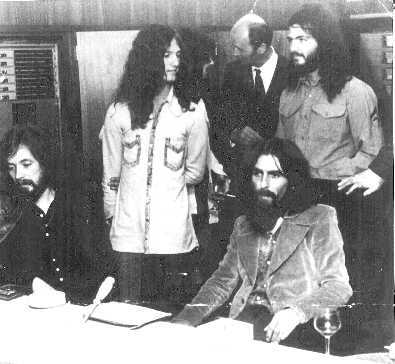 George Harrison with Lon and Derrek Van Eaton. That's Klaus Voorman at far left and Joey Molland behind Derrek talking with the Apple Studios' architect. Geoff Emerick's hand is visible at just to the right of George. This picture is from the opening party for Apple Studios and was used as a promotional picture for Lon and Derrek's "Brother" album. (Picture courtesy of Lon, Derrek and Constance Van Eaton.)
Q: How did you get involved with Apple Records?
A: We were living in Trenton, New Jersey, and recorded a four-track demo tape in our house. We recorded our guitars and vocals and used the walls, tables and floors as drum sounds by slapping them with cassette tape boxes and books to get the sounds we wanted. Our manager, Robin Garb, sent copies of the demo to several labels and we received several label offers. Apple's offer was not the most lucrative but was the offer we chose because of the opportunity to work with the Beatles and because of what the Apple label stood for -- love, peace and creative art.
Q: What was it like recording an album for Apple?
A: Lon recollects: "Three Jersey boys on a plane, first time, land at Heathrow (1971). Klaus, who had visited us in New Jersey and Mr. Martino in a Benz speeding along to Ascot (John & Yoko's estate), then to Buckingham Palace (tourism), then to Henley On Thames and then into the catacombs (in the dungeons below George's Friar Park) where George whispers in my ear in the dark 'Lon??'. . . We lived in Ringo's flat in Hayes Mews, walking distance to Apple on Saville Row. Opening party, I think we were one of the first to record there. We only knew how to make drum tracks from hitting walls (bass drum), slapping tape on floorboards (snare), and using trays for cymbals. Quite a sight in the brand new studio when we dented the clean white walls. Impression of evolved people . . . Clear view of possible consciousness expansion and learning. Years later when I recorded at Bolshoi Hall in Moscow, I thought of these past times . . ."
More recollections are captured on our new CD on the cut "Coming Back To Where We Belong" which touches on our time at Apple and working with the Beatles over the years.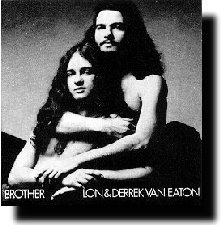 The cover of Lon and Derrek's Apple album, "Brother"
Q: George and Ringo were directly involved with the "Brother" album. George produced "Sweet Music," which Ringo played on. You've also done other session work with George and Ringo on their solo albums including George's "Dark Horse" and Ringo's "Rotogravure", "Ringo the 4th" and "Goodnight Vienna". How is it working with them?
A: Actually, Lon recorded on five of Ringo's albums: "Ringo," "Goodnight Vienna," "Rotogravure," "Ringo The Fourth," and "Bad Boy" as well as with George. At the end of recording the "Bad Boy"album in Vancouver, Ringo retired his old cymbal that had been with him since the early Beatle days. In fact, the last sound on that album is that cymbal crash! What can you say about a snare drum with a knife cut on the bottom skin, a wallet taped on top and such a pure fat tone!
Ringo has played on many Van Eaton tracks including: "Get Happy," "My World Is Empty Without You," "Hold On," and various tracks on their Apple Records "Brother" album.
How is it working with them? Well, how do you describe the opportunity of working with your "heroes" who happen to be very evolved people as well as being musically outstanding. George's reputation for his guitar playing speaks for itself and Ringo is one of the best drummers in the world. Ringo breathes life into every cut he plays. John was the master of imagination and of making his thoughts into social statements in the media. It was a wonderful time and they taught us so much. I am forever grateful.
It was difficult times for Apple during our tenure because of the personal differences surfacing among the Beatles themselves. Lon remembers a telegram from George addressed to Pete Bennett and Al Steckler which expressed George's frustration at the time: "What the ' !!!!! ' is the matter out there? "Sweet Music" is a No. 1 Hit!"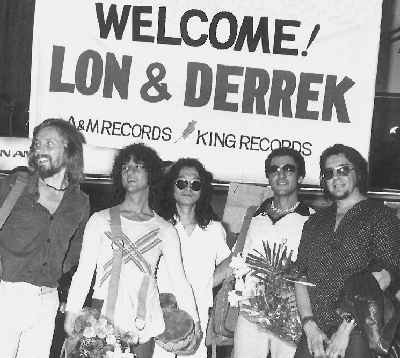 Left to right: Klaus Voorman, Derrek, unknown, Lon and Jim Keltner on tour in Japan. (Picture courtesy of Lon, Derrek and Constance Van Eaton.)
Q: "Brother" came with an insert to put on the record as it was on the turntable to create the effect of moving pictures. Whose idea was that and why was it done?
A: The turntable art insert was conceived of and art directed by our good friend, Klaus.
Q: You moved on to A&M Records after Apple. How were your experiences there?
A: Tough. With the changes at Apple, we all moved to Los Angeles. George wanted us to work with Bill Schnee and Bill was working with Richard Perry. George felt we just needed a good engineer. Richard and Bill both ended up producing but the "feel" was with Bill and the "biz" was Richard. We couldn't choose one or the other so we compromised. Big mistake.
Q: What have you been doing since A&M?
A: Getting to know and work with each of the Beatles at such a young age exposed the us to a rich resource of philosophies and strong work ethics. "Those guys, they taught us so much..." are lyrics from our new song "Coming Back To Where We Belong" included on this new album. John Lennon and George Harrison were particularly adept at using music, lyrics and the media to bring attention to what they thought was important. So, John's death was particularly impactful to the us. Derrek left the music business and Lon redirected his focus towards making music for a better world. After developing several non-profit youth oriented projects in Los Angeles, including KIDS Inc. and CHAMP, he moved to Colorado to be close to his family as Derrek and his new wife had settled in Colorado soon followed by their parents, Dale and Antoinette. Lon immediately formed his own production company, COMIN Inc., dba Music For A Better World, and Imagine A Better World, and began producing recordings, videos and events for non-profit corporations. The focus was to raise awareness and funding for such causes as Ronald McDonald House, The Leukemia Society of America, The American Soviet Youth Orchestra for President Reagan and Premier Gorbachev conducted by Zubin Mehta, Catherine Comet and Leonid Nikolayev, Pulse Of The Planet in conjunction with Turner Broadcasting (to fund 16 environmental organizations), Denver At the Apollo for Colorado's youth, etc.
For a capsule of the "Imagine A Better World Philosophy" -- we believe we create who we are and what comes true in our lives by where we focus our thoughts. Lyrics from the new album speak of personal responsibility as follows. "Think about what you do, it all comes true for me and for you ... That is all that life is of." We believe in producing good music with meaningful lyrics that will touch people's hearts and expand their way of thinking toward an enlightened world. We also donate proceeds and hands-on time to charitable endeavors.
We hope that ultimately what we have to say will make a difference in what people create in their lives and contribute to others. Quoting lyrics from this new album:
All we are saying,
What you think about will grow,
Imagine . . .A better . . .A better world . . .
In the moment we can feel compassion,
Now is the time to find a solution,
We can do it now!
Q: You're working on a new album, your first together as a team in many years. How did this come about, who plays on it and when will it be released?
A: Last summer, we were asked to contribute a cut to "Come And Get It: A Tribute To Badfinger," which was released in November. As they were all on the Apple label around the same time, they were delighted to contribute to the memory of old friends. They chose the Badfinger song "Apple of my Eye" written by Pete Hamm as a tribute to Apple. Beatlefan Magazine's review of Lon & Derrek's performance is quoted as follows: "...the album closes with a treat for Apple freaks: Lon and Derrek Van Eaton doing the poignant "Apple of My eye" with great vocals, multi-layered production and a false ending followed by some Harrisonesque guitar. Very nice indeed."
We had so much fun making music together again -- and received so many inquiries asking when they would release a new album together -- they decided it was time. This new album includes tracks with Ringo, Klaus Voormann and Denny Seiwell (Wings) and is a work of love for fans and friends, old and new. The songs address the passions and passages of life and love with tears and laughter.
Lon & Derrek's new album, "Black & White," featuring guest appearances by Ringo Starr, Klaus Voormann and Denny Seiwell, will be released May 9. The CD includes 18 songs and an 8 page booklet with pictures, old and new. Copies will only be available by mail order. To order, send $15.98 + $4.50 shipping ($6.50 shipping outside the USA) by cash, check, money order or American Express payable to: Imagine A Better World, Black & White CD, P. O. Box 938, Castle Rock, CO 80104-0938 and/or visit their web site at http://www.imagineabetterworld.com. For further information contact: Constance Van Eaton,
Imagine A Better World,
Angels Ranch Studios
P. O. Box 938
Castle Rock, CO 80104-0938
ConstiVE@aol.com
(Editor's note: Besides the new album, the Van Eatons' Apple album, "Brother," is planned for future release on CD. )
---
Copyright © 1997 by Steve Marinucci
Created October 09, 1997
Send email to webmaster Steve Marinucci
Go back to the table of contents page